Bio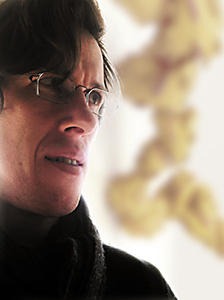 My interest for art started with reading comics as a child. From the start, it were the drawings, that catched me. It didn't take long and I took a pencil and I tried to copy my favourite figures, like Donald Duck, Garfield and so many more. This was fun...
Later I got fascinated by 80's grafitti art. When friends of mine, who were part of the Commodore Amiga Demoscene saw my grafitti artworks, they asked me, if I'm interested in making logos and images for their demos. As I loved playing home computer games and already played around with painting software, this motivated me to transfer my art to the computer.
Then something surprising happened. I got a letter from a manager of SEGA America, asking me if I'm interested in moving to the US to work for their company and their new projects. They offered me a full VISA with an incredible salery, at least for me as an 18 year old kid. This was the turning point. I was just 18 years old and I had an ice hockey career plus my regular school on my "todo" list, so I turned the offer down. But I realised, that I could combine my passion with earning money. I kept my regular life as it was, but started sending my artwork to companys, and asked if they were in need of a graphic artist. After a while I had my first job. Unbelievable: I could do what I love plus getting paid. It was not much, but it didn't matter. I was part of the game development business.
The following years, I did numerous jobs, encountered the usual up and downs of the business. It was (and still is) a hard job.
The last turning point was, when I sent my resume to Shin'en Multimedia, a company already famous for cool shoot'em up games for the Nintendo handhelds. The company evolved from the demoscene and had an artstyle I loved. It took a little while, to adapt to their unique way of developing games, but it turned out wonderful. I can keep artistic freedom and develop games as a team.
Skills
Plan, design and construction of all necessary components of video and computer games, especially 3D realtime content. Develop and setup workflows for efficient game art creation to fit time and budget restrictions.
Expert knowledge of Adobe Photoshop and additional 2D Software Tools for Texture Creation, Menu and Interface design
Expert knowledge of Autodesk Maya and 3D Tools for the creation of static and animated assets
MEL Scripting
Intimate and proven knowledge of the development process from concept to final product release
Work with programmers and designers to establish art pipelines and improve existing technology
Projects
2019-

Shin'en: TBA

2017-2020

Shin'en: The Touryst(Switch, XBox)

2017-2018

Shin'en: Art of Balance(Switch)

2016-2017

Shin'en: Fast RMX(Switch)

2016

Shin'en: Fast Racing Neo DLC(WiiU)

2016

Shin'en: Art of Balance(PS4)

2013-2015

Shin'en: Fast Racing Neo(WiiU)

2014

Shin'en: Nano Assault Neo-X(PS4)

2013-2014

Shin'en: Art of Balance(WiiU)

2012-2013

Shin'en: Jett Rocket - The Wrath of Taikai(3DS)

2012

Shin'en: Nano Assault Neo(WiiU), Nano Assault Ex(3DS)

2011-12

Shin'en: Art of Balance Touch!(3DS)

2011

Shin'en: Nano Assault(3DS), Fun!Fun!Minigolf Touch!(3DS)

2010

Shin'en: Fast Racing League(Nintendo Wii)

2009-2010

Shin'en: Jett Rocket(Nintendo Wii))

2008-2009

Shin'en: Zenses - Zen Garden(Nintendo DS), Art of Balance(Nintendo Wii)

2008

Shin'en: Zenses: Rain Forest Edition(Nintendo DS)

2007-2008

Shin'en: Fun!Fun!Minigolf(Nintendo Wii), Zenses: Ocean Edition(Nintendo DS)

2007

Shin'en: Nanostray 2(Nintendo DS), Pet Alien(Nintendo DS)

2006-2007

Shin'en: Strawberry Shortcake(Nintendo DS), Garfield's Nightmare(Nintendo DS)

2006

Shin'en: Miss Spider(Nintendo DS)

2005-2006

Shin'en: Nanostray(Nintendo DS)

2004-2005

Spirit: Kaept'n Blaubaer(PC)

2004

Tool: T-Online Promotion Game(Browser/Flash)
Independent Arts Software: Sommerspiele 2004(PC)

2001-2003

Spirit: Haegar(PC), VoodooIslands(PC)

1996-2001

Independent Arts Software: Metalizer, K.O.Boxing, Warcommander, diverse Casual Games(all PC)

1995-1996

Kaiko: Record of the Elf Saga(Amiga)

1994-1995

Attic Entertainment Software: Das Schwarze Auge 3(PC)
Personal Information
Name
Martin Sauter -
Born
1974 in Munich
Address
Raiffeisenstrasse 7, 85567 Grafing b. Muenchen, Germany
Phone
+49 (0)8092 - 83512
eMail
martin.sauter(at)fadeone.de
St-Nr
112/265/80222 -
USt-ID
DE179312407