Art of Balance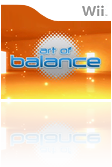 Job:
Genre:
Platform:
Developer:
Publisher:
Release:

Art Direction, all game graphics
Puzzle
NintendoWii
Shin'en
Nintendo/WiiWare
2010

Art of Balance is a physics based puzzle game, focusing on the "casual gamer", who enjoy simple, but challenging game ideas. To make the game stand out from the many puzzle games in the Nintendo Wii library, we choose to design a different look typical to the genre. We aimed at clean, stylish and colorful visuals to transport a relaxing and loungy feeling, still maintaining a typical videogame feeling. With a Metacritic Score of 88/100 the game is rated among the best games overall on the Nintendo Wii.
The Press
"...A simple idea perfectly executed. It deserves a place among your favourite Wii Channels..."
NGamer UK 100/100
"...A simple and very stylish build-a-tower game. The physics work really well..."
Pelit 90/10
"...offers hours of fun brain-bending gameplay..."
Official Nintendo Magazine 86/100
Screenshots