Jett Rocket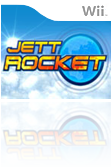 Job:
Genre:
Platform:
Developer:
Publisher:
Release:

Art Direction, all Ingame Graphics
Action-Adventure
Nintendo Wii
Shin'en
Nintendo/WiiWare
July 2010

Jett Rocket is an action-adventure within a stylish cartoon environment. The game was a key project for Shin'en to showcase that it is possible to release a fullfeatured game with nextgen graphics and effects with richly textured environments on the Nintendo WiiWare service. With careful planning and the use of custom Shin'en tools we could squeeze content of a retail release in the narrow 40MB WiiWare size restrictions.
The Press
"...The important thing is that it's all rather good fun, right down to the level design, colour palette and even the sound effects..."
Eurogamer 80/100
"...Jett Rocket is, without doubt, one of the finest looking 3D games on the service. Its three environments are diverse and contain a level of detail usually found in higher-end retail releases. Metallic surfaces glisten and reflect, water ripples convincingly and the art direction feels as if it's taken notes from the best parts of the genre's top titles..."
NintendoLife 8/10
"...The worlds are bright and well textured, the bosses (while not terribly difficult) are large, and the lighting is great. It's just a straight-up good looking game..."
IGN 7.8/10
Screenshots