Nano Assault/Nano Assault EX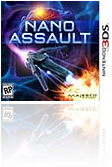 Job:
Genre:
Platform:
Developer:
Publisher:
Release:


Art Direction, all Ingame Graphics
Shooter
Nintendo 3DS
Shin'en
Majesco Entertainment
Nov 2011(US), April 2012(Japan)
Feb 2013(Nano Assault EX)

Our first game for the Nintendo 3DS. It was very exiting to work with the new 3D technology and trying to push the capabilities of the hardware to its limits to deliver one of the most appealing games on this platform. On the gameplay side we looked for new and different experiences to get away from a classic arcade shoot 'em up style, which were so popular in the 90s and 00s. On the art direction side, we really went for a different look to give the player a fresh setting, full of surprise and eye candy. In 2013 we released Nano Assault EX as digital download on the Nintendo eShop. It was released in worldwide, including Japan with Arc Systems Works as our publshing partner. The game is an updated and enhanced version of the retail game, published by Majesco Entertainment.
The Press
"...Nano Assault is a gorgeous shooter that truly shows off the power of the 3DS and the 3D technology..once those graphics pop you won't believe your eyes. The 2D screenshots don't do the game justice..."
Game Chronicles 8.7/10
"...Shin'en's 3DS debut is quite possibly the best-looking 3DS game not made by Nintendo..."
Nintendo World Report 8.5/10
"...the cool neon bathed graphics, big explosions and non-stop action kept us hooked to the tiny screen..."
Modojo 8.0/10
Screenshots