Nanostray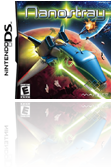 Job:
Genre:
Platform:
Developer:
Publisher:
Release:

Ingame Graphics
Action
Nintendo DS
Shin'en
Majesco Entertainment
2005

Nanostray was my first Nintendo DS Project and our goal was to achieve the best possible 3d graphics with the Nintendo DS hardware. The release was almost simultaneously to the launch of the DS, so we were still researching the possibilities. Overall we achieved a great looking game with the best visuals at that time. My job was less on game design or art direction, but more on creating models and environments of this title.
The Press
"...Highly replayable. It's also insanely beautiful. I'll wear this cart out; it's just a remarkable old-school shooter..."
Play Magazine 85/100
"...What this game does, however is give the Nintendo DS library a real kick in the pants with an energetic production, fast-paced action, and some extremely challenging elements that will keep you going for some time..."
IGN 8.0/10
"...Once your thumb learns the locations of those four weapon-select spots, you'll be able to tear through wave after wave of enemy ships in what is easily the best looking and intensely challenging game on the DS to date..."
Game Chronicles 93/100
Screenshots