Pet Alien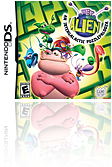 Job:
Genre:
Platform:
Developer:
Publisher:
Release:

Art Direction, Ingame Graphics
Puzzle Adventure
Nintendo DS
Shin'en
The Games Factory
July 2007
Pet Alien is a game based on a famous cartoon series from the US. We developed a fun but challenging adventure based on a puzzle game mechanic, focusing on the younger target audience. The visuals stayed true to the origins of the IP, while giving everything a bright and vibrant look.
The Press
"...it would be a shame if German developer Shin'en's balanced work was ignored. Go on. Open your DS and welcome the charms of Pet Alien..."
Pocket Gamer 70/100
"...when the puzzles get tough, just remember - don't panic!..."
Nintendo Power 80/100
Screenshots