Strawberry Shortcake - The Four Seasons Cake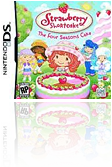 Job:
Genre:
Platform:
Developer:
Publisher:
Release:

Art Direction, all Ingame Graphics
Platformer
Nintendo DS
Shin'en
The Games Factory
December 2007

Strawberry Shortcake was a project targeted at a young female audience. We build a solid jump&run experience with classic gameplay elements. Visually, we stayed as close as possible to the source assets, maintaining the bright and happy look of the TV shows. The Nintendo DS combined with the know-how of Shin'en were a perfect fit for this license.
The Press
"...the graphics are gorgeous! I was instantly amazed by the bright, vivid colors in the levels. The characters and objects are very detailed, and so are the environments..."
Gamezone 8.0/10.0
"...If all licensed games were like Strawberry Shortcake: The Four Seasons Cake, then no one would complain. I would be proud to gift this to a fledgling gamer with their brand new Nintendo DS..."
NintendoWorldReport 8.0/10.0
Screenshots