Zenses - Ocean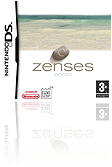 Job:
Genre:
Platform:
Developer:
Publisher:
Release:

Art Direction, all Ingame Graphics
Puzzle
Nintendo DS
Shin'en
Game Factory
2008
Zenses - Ocean is the sister edition of Zenses - Rain Forest. Its design features clean and stylish visuals to transport a relaxing feeling. The different puzzle games have simple rules and are balanced to give you a good time, no matter if it's for three minutes or for a three-hour escape.
The Press
"...Their graphics are great. They isn't really much to the game if you get down to it, but staring at the little games for hours did not give me a headache, make me wonder what I was looking at, or impede upon the game in any way whatsoever. The ocean was pretty, the pearls where shiny, and there was hardly a wayward pixel to be found..."
Game Vortex 90/100
Screenshots