Zenses - Rain Forest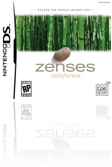 Job:
Genre:
Platform:
Developer:
Publisher:
Release:

Art Direction, all Ingame Graphics
Puzzle
Nintendo DS
Shin'en
Game Factory
2008
Zenses - Rain Forest is the sister edition of Zenses - Ocean. While maintaining the idea of active relaxation by playing, it offers new puzzle games and a different setting with soothing ambient sounds and authentic rainforest visuals.
The Press
"...It's all pulled off better than you'd guess, and strikes a definite atmosphere; whether that atmosphere is right for you or not is another question...."
Gamesradar 6/10
"...I've got to give it to them, the graphics and sounds are wonderfully relaxing. The background images are just plain beautiful..."
Game Vortex 89/100
Screenshots