05

Jan

2014 Update online

Happy new year wishes from me to all of You. And finally I found time for some updates.
Jett Rocket II - The Wrath of Taikai
was released in November. Check the gamesheet for more information. Summed up, the reception in the media was mixed. We will take this as motivation and use the feedback to make the next games even better. When talking about future releases, we revealed our next Nintendo WiiU game,
Fast Racing Neo
.I can't post too many information at the moment, but I can confirm, that this will not be a simple port or remake of the Wii version. It will be a standalone, full new product and we will try to create the most exciting eShop game in 2014. Plus there is another WiiU game I'm currently working on. It should get revealed in the next weeks, but that's all I'm allowed to write at the moment.
11

Apr

Jett Rocket goes ideame

I will attend the
IDEAME Conference
in Madrid from 13th to 14th April. Jett Rocket is flying with me and we will show the current progress of our Nintendo 3DS game
Jett Rocket II - The Wrath of Taikai
. Make sure to read the coverage of this event to see a playable build and get more information of this great platformer.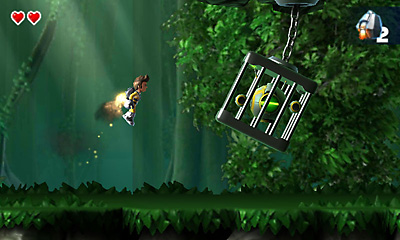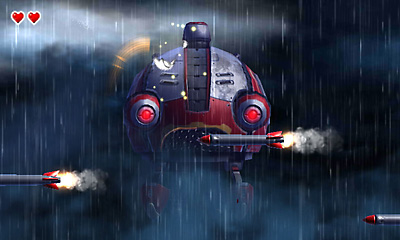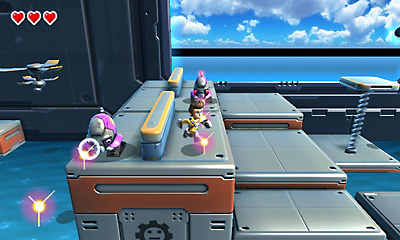 Some screenshots from our development version. As always, these are not fake and represent real ingame sequences. The game is still in development and will be on sale on the Nintendo eShop as a digital download in a few month.
19

Mar

Nano Assault EX ready for download

Nano Assault EX
for the Nintendo 3DS is available for download. The game is an enhanced version of the retail game
Nano Assault
. It is 14.99 Euro or $14.99 in North American territories. Read some reviews and support this great twin-stick shooter:
24

Feb

Jett Rocket II announced

In case you missed the news:
Jett Rocket II - The Wrath of Taikai
is officially announced as the next Nintendo 3DS game from Shin'en. Formerly known as Jett Rocket Super Surf, the game has transformed in something bigger. The development is running smooth and is close to the beta stage, which means all content is finished and we can work on final tweaks. If everything runs well, the game should be rady to download on the eShop before summer. If you're curious what the game is all about: I can tell you it's a platformer, it is no simple conversion or remake of the Wii game, but a full stand alone game. I can post more infos and some visuals very soon, so stay tuned.
23

Feb

Nano Assault Neo Release News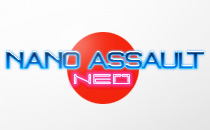 I'm very proud to announce, that
Nano Assault Neo
, our well received launch title for the WiiU, will be available in Japan on February 27. This is something special, as very few western games get a release on the japanese Nintendo eShop channel, as you need a local publisher as connection to Nintendo Japan. Arc System Works, famous for some really cool fighting games, has teamed up with Shin'en and we got the job done.
25

Nov

WiiU launches with Nano Assault Neo

We've made it. The WiiU has arrived and
Nano Assault Neo
is one of the five launch titles on the digital download channel eShop. It's an honor that Nintendo selected
Shin'en
as one of the few developers to help making the Nintendo WiiU start lineup attractive for the gamers. The game is available for 9.99$ in North America, Europe will follow on the 30th of November with their local WiiU launch.
Nano Assault Neo
is an intense arcade twin-stick shooter, with beautiful graphics, online leaderboards, multiplayer, etc. If you're still not sure, watch this
cool video
or check the discussion on the famous
NeoGaf forums
.
And last but not least, here are some reviews from the web:
20

Oct

Art of Balance Touch! Demo released
You can download a demo of
Art of Balance Touch!
on the European Nintendo 3DS eShop. The game is a well received physics based puzzle game and with an average 82
Metacritic score
, one of the best rated 3DS download games overall. By the way, the US Demo should follow very soon.
23

Sep

Nintendo reveals Nano Assault Neo [Updated]

The long wait is over. Nintendo revealed the release date, pricing and the launch lineup for thir new console WiiU. On the corresponding press event and on a "Nintendo direct" show, they showed our newest game for the first time:
Nano Assault Neo
. It will be an exclusive launch title, downloadable at the WiiU eShop. The game is not a conversion of the
Nano Assault 3DS game
, but a brandnew product, focusing on intense action and supporting the unique WiiU gamepad features. There's a shop system for upgrading your ship, new game modes, online highscore tables, a two player mode and much more. Until I can post more infos, make sure to check out the extended gameplay trailer or the Nintendo shows to get hyped for this awesome game and the new innovative console. Additionally I added a first batch of screenshots to my Nano Assault Neo
info sheet
.
By the way: In the EU show, Nano Assault is featured at 29:50 and in the US Press Event at 55:55. Just in case you don't want to watch the whole event.
15

Sep

Fun!Fun!Minigolf Touch! goes Japan

I'm really happy to post, that
Fun!Fun!Minigolf Touch!
will be available in the home country of Nintendo, that is Japan. On 19th September, with help from our partner Cyberfront, the game will be downloadable via the Nintendo 3DS eShop. This is a great honour and a good showcase for our product(s), as very few western digital releases make it to Japan. A local
homepage
features all the information you need to know. As long as you're able to decrypt the japanese kanji letters...
05

Aug

Nano Assault EX announced

Shin'en announced
Nano Assault EX
for the Nintendo 3DS. It will be available exclusively on the Nintendo eShop as a download. This is the chance for all Europeans to pick up the original
Nano Assault
game, which is currently only available in North America and Japan. It will feature the full retail game, plus extras and enhancements. Additionally the Circle Pad Pro will be supported. More details will follow...
27

Jun

Reactions for Art of Balance Touch! - Update

The game is out for a couple of weeks now. We've received a lot of coverage and fortunately about all reviews are positive and praise the overall quality of this title. On the eShop we average 5 out of 5 stars in consumer reviews, which makes
Art of Balance Touch!
one of the best rated games on the eShop up to now. This makes us proud and we would be happy if even more people would enjoy this
"must-play puzzler" (Hookshot Inc.)
on their Nintendo 3DS. The sales are ok, but (as always) could be better, eventually due to the release in summer time, which is usually not the best season for games. Read this nice article from
Nintendo Everything
or choose reviews from the following list and get teased to buy the game.
21

MAY

Art of Balance Touch! is ready for download
It's about time!
Art of Balance Touch!
for the Nintendo 3DS will be released this week on May 24th. Log into the 3DS eShop and download your copy for 7 Euro or 6.20 pounds in the UK, which should be a fair price, for 200 levels of this relaxing physics-based puzzle game. The US release will follow on June 7th for $6.99. Check out the
official website
for a video and more information about the game.
A small update of my
links
section. I hope you find some of the links useful for your daily routines.
28

APR

Art of Balance Touch! revealed

Finally, our newest game is revealed to the public.
Art of Balance Touch!
is the 3DS version of the highly rated WiiWare game
Art of Balance
and will be available on the Nintendo eShop. We are quite happy with the overall sales of our first game, which made the decision simple to stick with the platform and develop more quality games.
Art of Balance Touch!
will feature the same mechanics and the look&feel of the original. Of course we added features to make this version a even better experience, no matter if you played the Wii version or not.
Development is finished, so a release date and pricing information should be available soon. Plus read some first impressions on
NintendoLife
.
25

MAR

Fun!Fun!Minigolf Touch! - First Receptions
The game is out for a little more then two weeks. Our average rating in the Nintendo eShop is 4.5/5 stars and the game is leading the download charts in most countries. We are happy with the sales and hope the game can keep this momentum. The receptions from the media are kind of mixed, which is no big surprise. Casual games have a hard standing in regular gaming media, as their focus group and personal preferences usually differ from the target audience of casual games. Both groups value and enjoy games quite different. Therefore it's no wonder that the average press score and user score drift apart for
Fun!Fun!Minigolf Touch!
.